Choose Vinyl Flooring in Steinbach, MB, for Your Home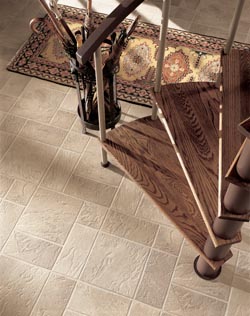 You can have floor coverings that are both beautifully stylish and eminently practical. That is when you select vinyl flooring in Steinbach, MB. Our flooring showroom is filled with samples and we stock of a range of vinyl options from tile to plank to sheet. Steinbach's Flooring Canada carries a selection in the hundreds of different brands, styles, colours, and textures.
Start your shopping at our store where we offer selection, sales, and service. To assist you in making decisions, our sales and design professionals are available to answer your questions and show you flooring that works for your space. Or, if you prefer, we can visit you in the convenience of your home to show you samples and measure your space for vinyl flooring.


Making the Case for Vinyl
Vinyl is one of our customers' favourite choices for flooring for a multitude of reasons. This flooring option offers versatility in a number of fashions. First, it comes in a variety of appearances, mimicking ceramic tile or hardwood plank. Vinyl floor coverings are available in tiles, planks, and large sheets of 6' and 12'. Then, within each option, you have a wide range of choices in colour and pattern.
Customers also select vinyl for its installation versatility. With this water-resistant material, you can place vinyl plank or tile in your kitchen, bathroom, or basement, as it does not react to moisture and humidity. Of course, its beauty also makes it appealing for any room in your home.
Those that clean your home will appreciate this: vinyl is easy care and low maintenance. All it requires is sweeping to remove dust and dirt and damp mopping to restore the shine. Of all the possibilities for your floor, vinyl gives you beauty, style, and easy care -- it doesn't get better than that.
This flooring option wears well under heavy foot traffic in your busy household, even holding up when children and pets run and play in your home. That's because the brands we carry from trusted manufacturers are made to last.


Follow Sales with Installation by Qualified Professionals
When the time comes to install your new vinyl flooring, let us arrange for installation service from a team of experts. These skilled and experienced installers have one goal -- to place your new surfaces according to the manufacturer's recommendations, so the vinyl of your choosing looks handsome in your home for many years to come.



Contact us today with any questions about which type of vinyl is best for your home. We proudly serve customers from Steinbach and Winnipeg, Manitoba, as well as the surrounding areas.