Tile Flooring in Steinbach, MB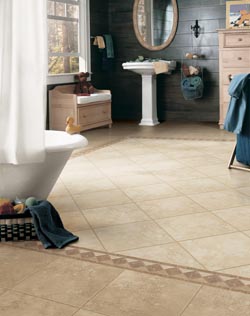 Make a major impact in your home or business when you install tile flooring in Steinbach, MB, from our reputable store. Discover endless products and services at our showroom for locations throughout the region. Our team is happy to provide customers with an easy way to upgrade their spaces. With our tile flooring prices, it has never been more affordable to bring a new look to your location. Whether you want to enhance the look of your space or completely transform it, we are here to help you. Visit our showroom today to take advantage of our options.
Tile Flooring Prices to Fit Every Need
Take your space to the next level when you undergo a tile flooring installation from our experienced installers. Tile flooring is a top choice among homeowners due to its durability and classic looks. From kitchens to entryways, this material looks beautiful in any part of a home or business. When you are ready to perform a style upgrade, we invite you to work with us for the results that you want throughout every room in your property.
At our local showroom, we feature an extensive selection of tile floors to meet the needs of the choosiest client. Our tile flooring prices are designed to give you a way to enhance your location without sacrificing on quality. We proudly provide clients with access to products from the leading brands on the market today, including the following:
Ceratec
Julian
Ames
Shnier
Dal Tile
Armstrong
Olympia


Ceramic Tile Flooring for Busy Households
Busy households with pets or children need a flooring material that holds up to constant use. When you need a durable option for your space, choose ceramic tile flooring for your home. Ceramic is a popular material with customers everywhere due to its strength and durability against everything from grease to water. By using this material, you will achieve your design goals while keeping your space protected.
Professional Tile Flooring Installation
Breathe new life into your home or business with tile flooring installation. From bathrooms to entryways, our services are designed to add style to every part of a location. Because we never cut corners on our services, you can count on us to deliver the top-quality result that you deserve for every project.
Once you have chosen the right product for your space, turn to us to for a flawless installation that will protect your investment for years to come. Our experienced team of contractors understands the right way to perform these services. When you rely on our professional installation services, you can trust that we will handle your job correctly the first time. We focus on the details to ensure that each tile is placed in the proper position.



Contact us to learn more about our selection of tile flooring. Our competitive tile flooring prices are available for clients throughout Steinbach, MB; Winnipeg, MB, and surrounding areas.