Create Stunning Vistas
From country and traditional to modern and art deco, our tile selection has it all. You can mix and match, so the decorating possibilities are endless.
When you get started, make sure you consider the use, so you choose the right tile for your space. There are many choices available, including ceramic, porcelain and natural stone, so you're sure to find one that works for your décor.
Then, select your style. Match tile colors and patterns to the style of your space. Consider the size – large tiles can make a room seem larger, while smaller tiles create the illusion of an intimate space.
You may also want to look for decorative or functional edges, accent pieces and other finishing touches.
And don't forget, you can sample before you buy to see if the color and style works in your home. Visit flooringamerica.com to request a free sample today.
---
This stunning collection of quality tile flooring uses color and texture to open up intriguing design possibilities for every taste and décor. It's the ultimate in expressive design.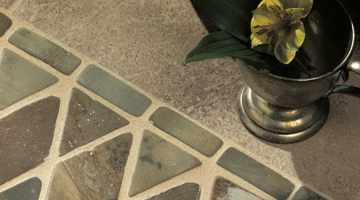 alvarado
Glazed porcelain tiles in a wide variety of sizes create a distinct modular look. Tiles come in 20" x 20", 13" x 20", 13" x 13", and 6 1⁄2" x 6". A fashionable selection of decorative borders help create unforgettable floors.
---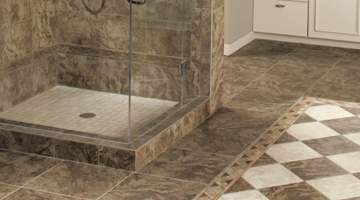 akando
These versatile glazed ceramic tiles can be used on both floors and walls for whole-room styling. Floor tiles are available in 18"x18" and 12"x12".